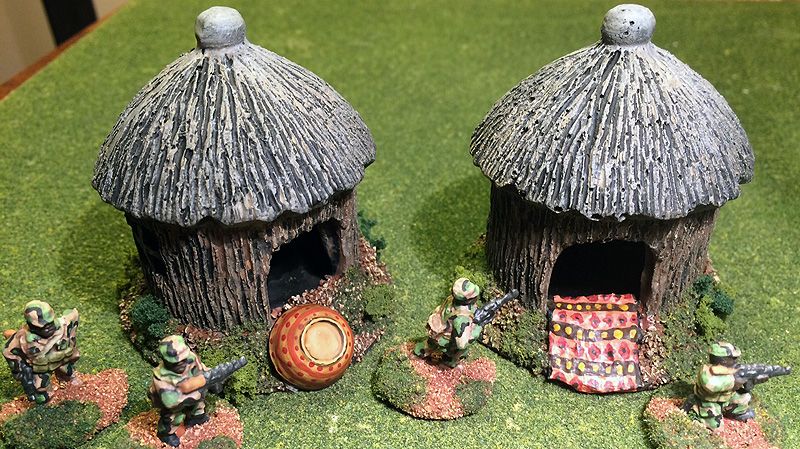 $4.99 (half off for $2.50) at Michaels craft store -- an inexpensive way to create an African village! Posed with my 20mm Liberation Miniatures modern Africans.
I always enjoy wandering the aisles of my local craft stores -- Michaels and Hobby Lobby. Just about every time I can find something I can use for one of my projects. I keep their online coupons saved on my iPhone's web browser, so I can pull them up quickly and get something I see for 40% or 50% off. It was when that day's Michaels coupon was for half off of a regularly priced item that I stumbled upon these round huts made out of some type of resin-like material.
I picked them up, eyeballed them, and thought they looked surprisingly close to 20mm scale. I know I should probably keep a 20mm and 28mm figure in my car to be sure, but I usually think to do that only when I'm at the flea market of a larger convention. The more I looked at them, the more sure I was they would be perfect African huts for my 20mm Modern Africa games. They were priced at $4.99 each -- not bad, but a steal at $2.50 (less with the 15% Teachers' discount they let me pile on top). I picked up two as I had a friend tagging along when wasn't buying anything (another valuable asset to keep handy...ha, ha!).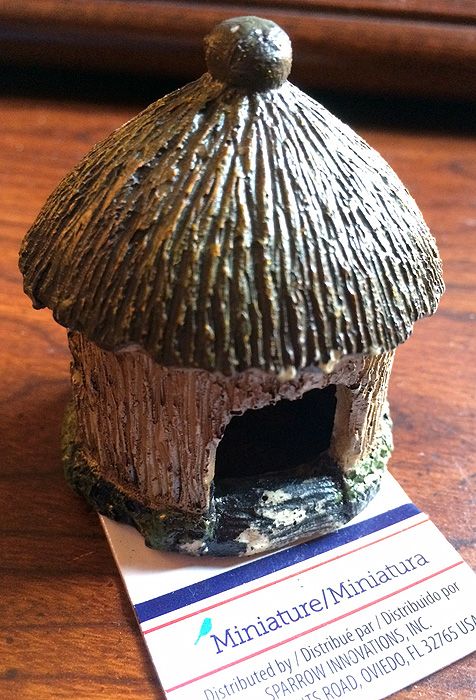 The round hut and its Chinese factory paint job
Although they came already painted, I figured I could do a better job than the random Chinese factory worker. I spray painted them black, then went over that with a 50/50 mixture of black paint and water. Essentially, I gave the huts the same treatment that I give my Acheson terrain pieces I talked about in the previous post. I painted the mud plaster walls a base coat of a spice tan, then dry brushed them my usual khaki color. The thatch was done in a butternut color, with a light gray dry brush on top. The interior of the hut was painted black for uniformity, as were the recessed window openings. Finally, I mixed up black paint and water for a black wash to give it that shaded effect and soften the transitions on the drybrushing.
I was unhappy with the flocking I did in the doorway, though. So, I decided to go back and correct it by putting something to grab the eye in the doorway. For one, it was a paper towel rug painted with white glue and various colors. For the other, it was a tiny plastic bowl from the craft store painted as an African basket. Some flocking and clump foliage, and my African huts looked decent for the tabletop. I have purchased three more of the huts so that I can represent a village on the board, and will likely keep my eye out and buy more when I get another 50% off sale.
I posed them next to some of my more recent 20mm Africa figures, so you can see they do a good job of looking the part of an African village!