So, kind of an anti-climax for the last installment. Here are the photos of the interiors. I went with CG Textures' website
http://www.cgtextures.com/index.php
, suggested by someone on the
Lead Adventure Forum
. I simply downloaded the images, resized them in Photoshop, and printed them off. Looks so much nicer than trying to scratch-build the interior. I know some purists may feel it is crossing the line between modeling and cardstock buildings. I just didn't want to spend lots of time on the interiors, seeing how much time I spent on scratch-building the temples themselves!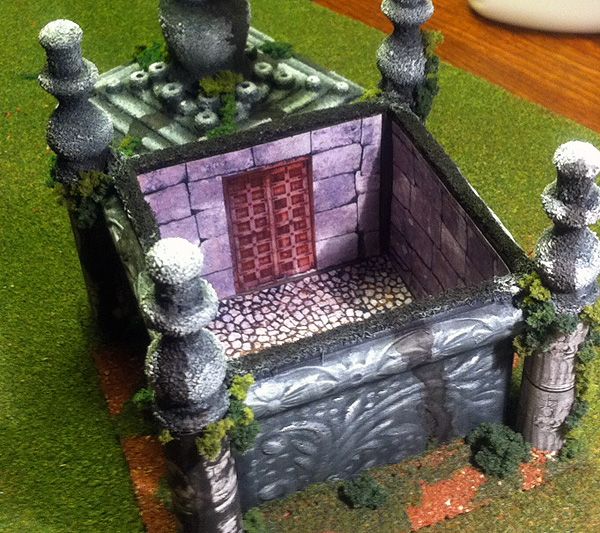 The interior of one temple, showing the door
Here is the interior of one of the temples. I painted the interior solid black, then cut the floor and four walls in separate pieces. I painted the interior lightly with white glue and voila! Instant stone wall or floor. The wall with the door was done using photoshop, as well. I found a likely door, cut it out electronically and pasted it onto another image of a stone wall. I am really happy with how realistic it all looks.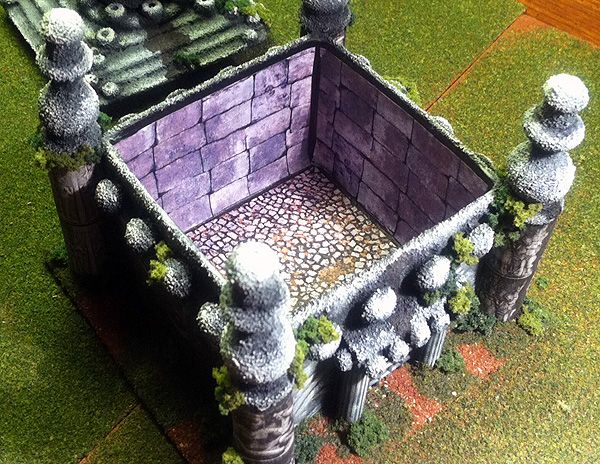 CG Texture images downloaded (free!) look very realistic when printed out and glued in
I went ahead and did an interior floor for the stupa, as well. Technically, these buildings are usually solid -- there are no rooms on the inside. But hey, these are also for pulp games...so there HAS to be a secret room with a hidden latch that opens it...!
I plan on doing at least one larger one, now that I have the techniques down. Hope you have enjoyed the tutorial...feel free to leave a comment. Or heck, even subscribe (or become a Follower) of my blog!!!