I'd forgotten how addictive working on scratch-built terrain can be. I've been working on and off on these for about two hours. As they progress, I keep thinking how cool they are looking, which makes me want to do the next stage, and next stage, and so on! Kind of like a computer game that keeps pulling you in to do one more turn...! Anyway, today's step was to scratch-build the doors and roofs for the two small temples. Meanwhile, I keep gluing on the decoration for the round stupa.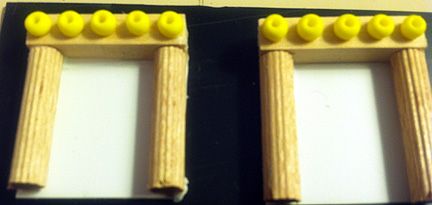 The doors were fairly easy to build. I started with a very thin piece of styrene plastic. I cut it out into the size and rectangular shape I wanted the door plus columns and lintel to be. I figured it would make it easier to attach to the embossed cardstock surface if I glue it on as one unit. For the columns, I used ridged wooden pegs which look in this scale exactly like fluted columns. I've used them before on scratch-built ruined Greek temples and such. I trimmed the tapered ends off and cut them to size with my hobby saw. The lintel was a simple square dowel cut to size so it rests on the columns. I glued it all together with tacky glue, and then decorated the lintel with tiny beads. The doorway itself looks kind of plain, now. So, I may add some decoration to it, too. Southeast Asian temples were highly detailed and decorated.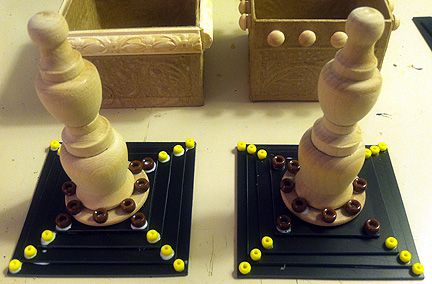 The roofs were also very easy to create. In Part 2, I talked about the finial which is the centerpiece of the roof. The roof itself is made from successively smaller black styrene plastic squares glued atop of each other. The finial is glued to the smallest, center one. I then decorated the roof with different sizes of beads. I thought about placing something inside the beads, sticking up out of them, but decided not to. I may still add that later. The last touch will be to glue a square of foam core to the bottom of the roof to fit inside the temple walls and hold it in place.
I am liking how they are looking (as I mentioned before), so far. They are moving along fairly fast, too!The next step will be to attach the temples to their base and glue down the columns to the corners.