My completed 25mm Acheson Creations French & Indian War fort
I wasn't sure if I'd be able to get this whole thing completed in time for next weekend's convention, but it painted up a lot quicker than I thought it would. The last pieces to do -- the two stockade towers -- were Dullcoated this morning. I ran into a small snag on them yesterday with the interior floor piece which separates the ground floor from the upper fighting level. The square piece fit in just fine beforehand, but after washing in the dishwasher, priming, painting, and clear coating, it must have grown. I ended up having to shave its edges down to get it to fit again, and then repaint those edges.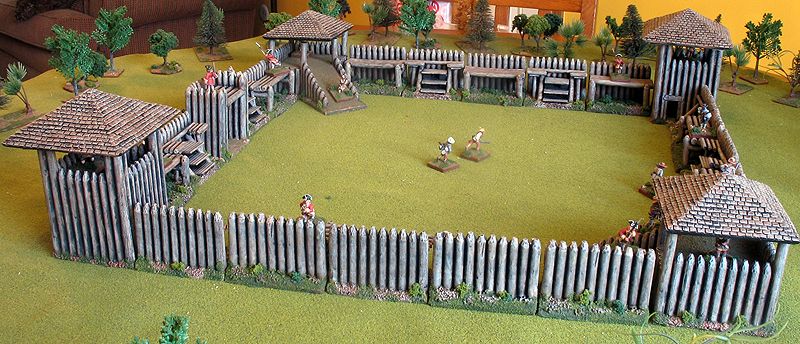 The fort is about 2 feet square on the tabletop
Since it was a nice, sunny Sunday, I thought I'd set it up on my kitchen table and photograph the whole thing. I was curious what its dimensions would be. As it turns out, the fort is about 2 feet square. That is plenty big enough for the scenario I have envisioned for it in this weekend's game. I am actually missing 3 pieces that Acheson Creations did not ship, so it will be even marginally larger once those arrive and are painted up, as well.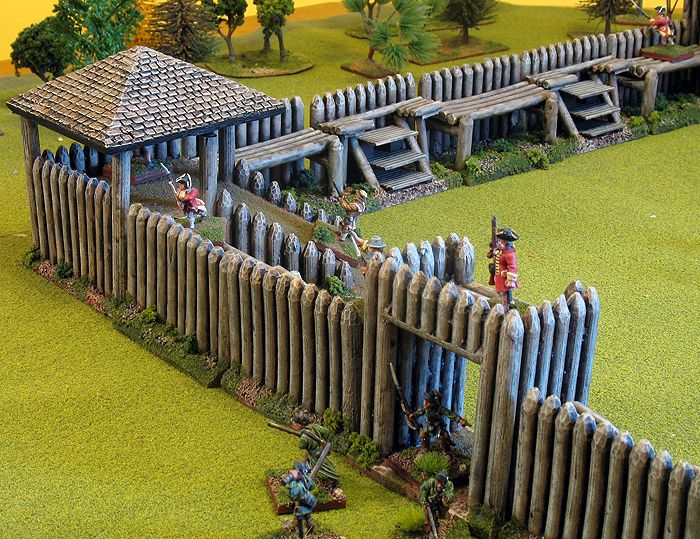 Close up of the fort gate and one of the corner artillery emplacements
Speaking of Acheson, I highly recommend their Basic Fort set, which is the nucleus of what you see in the pictures. I added in the two corner artillery emplacements, along with the two stockade towers finished this morning. In addition, I purchased 8 extra wall sections that I converted into "stairs up" sections, as detailed in earlier posts. The basic set comes with four corner sections for those who don't want a tower or artillery emplacement on the corners (or don't want to buy them!). They are not pictured in my set up, here.
Close up of on of the corner artillery emplacements (um, with no artillery!) and a stockade tower in the background
I won't go into detail how I prepared and painted these, as I've done that in previous posts. Suffice to say, the excellent detail on these resin pieces makes it easy to base coat and dry brush them so that they look very nice.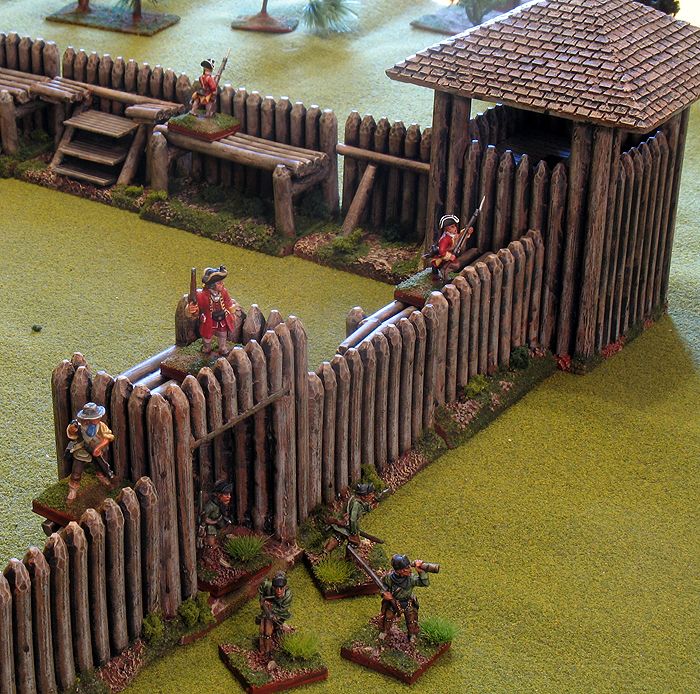 A squad of Rogers Rangers sallies forth from the fort's gate while regulars and militia watch the woods
Stay tuned to my blog for pictures and a report from next weekend's "Ohio Frontier Aflame" games at
Advance the Colors 2014
. If you like a good French & Indian War game, come on out to the convention in Springfield, OH. I will be running it Friday and Saturday at 7 pm, as well as an afternoon game at 2 pm Saturday. There will be 10 spaces per game, so I hope to accommodate most of those who want to play!