I have had these figures done for a couple weeks, now. I'm not sure why I haven't gotten around to posting pictures of them, though. These four figures will be one of my silent auction raffle items I'm doing at Advance the Colors 2014. All the proceeds will go towards my middle school travel club. Although they are not immensely practical figures, they are meant to be nice "eye candy" for GMs to put on their tabletop. Of course, they could be used in skirmish style games as objectives, and so on, too.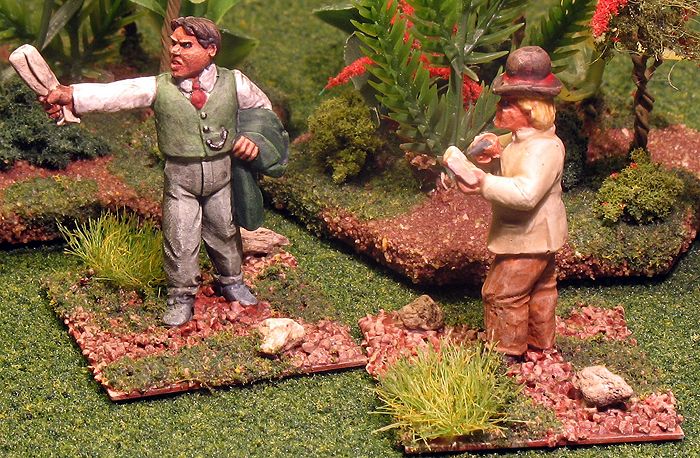 The "Producer" and the "Journalist" -- two 28mm miniatures for my Silent Auction at Advance the Colors 2014
First up, is the "Producer" and the "Journalist." The producer is a Bob Murch figure and one of my favorites of the batch. I like his style -- suit jacket draped over one arm, and gesturing with rolled up plans or script. He looks full of himself as he dramatically describes his grandiose vision to the Victorian-looking reporter. Honestly, I'm not sure where this figure comes from. It may be one from Old Glory's "Famous Newspapermen" pack. He is a much more simple figure without the fancy watch chain of the producer. He'll make a great extra figure hanging around a general on a battlefield, getting the scoop on the great man's thoughts.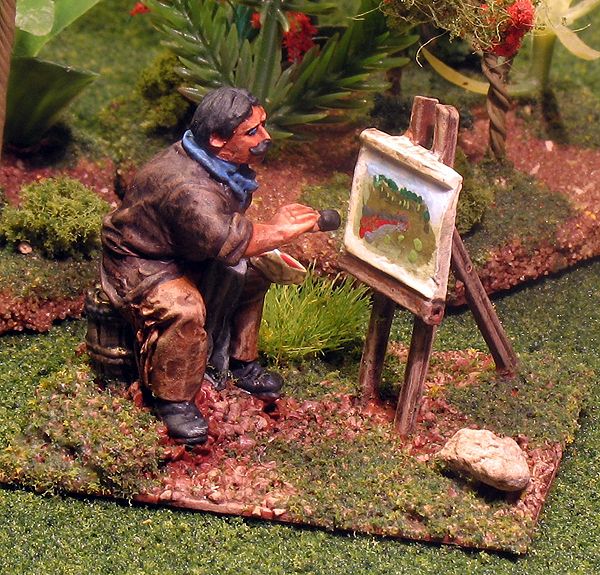 The "Battlefield Artist" hopefully will go to a good home in the Silent Auction
My next favorite is the "Battlefield Artist." This miniature has a decided 19th century look, in my opinion. I really his expression, and with jaunty mustache and rumpled but chic clothes, he looks the part of an artist. I think the watercolor I did on the canvas turned out fairly nice, too. He sits atop a barrel scavenged from somewhere and his palette in his left hand reflects the colors on the painting. Like the others, I think he'll make a nice addition to a tabletop as he quietly records the action on canvas.
The "Photographer" -- a potentially useful figure for Skirmish scenarios
Finally, the photographer is probably the simplest of all the figures. The black cloth draped over his head and shoulders meant there wasn't as much detail to paint up. His blue suit jacket and gray pants are straight forward attire. I think he'd be a cool figure to use in Pulp or Skirmish games were the actions of the characters need to be "photographed" for victory points. Maybe a dinosaur hunt? Bonus scenario points for posing next to your kill?
Since I run 28mm Pulp games, these figures actually could be useful for me, so I hate to get rid of them. However, they've been sitting in my unpainted lead pile for quite some time, now. If I hadn't chosen them to paint up for my silent auction, they'd still be in that state -- unpainted! So, I don't mind seeing them go. I just hope that whoever has the winning bid is generous with his or her donation to my students' cause!