Some of my newly-painted wall sections set up with my 28mm French Infantry
My
Acheson Creations
25mm French & Indian War fort continues to grow towards completion. Earlier this week, I finished off the last of the wall sections, along with the corner pieces and fort gate. All that is left to do are the two corner artillery emplacements and two stockade towers. Then I will have a massive-sized French & Indian War fort. Hopefully, all of this will be completed in time for my Ohio Frontier Aflame scenario at
Advance the Colors 2014
, Sept. 19-21.
These wall sections were extra that I ordered in addition to the
Basic Fort set
. At first, I was disappointed they were not identical to the ones in the set (my mistake for not checking the item codes). However, I ended up being happy about it because these were easily converted into "stairs up" sections. I described how I created them in the previous post, so I won't go into that again. I converted six of the eight that I ordered. In the photographs, you can see the two completed wall pieces side by side. You can also see how easy it is to make my based French & Indian War figures "climb" the stairs.
I'm really happy with how this fort is turning out, and think it will be quite the eye-catcher on the tabletop...!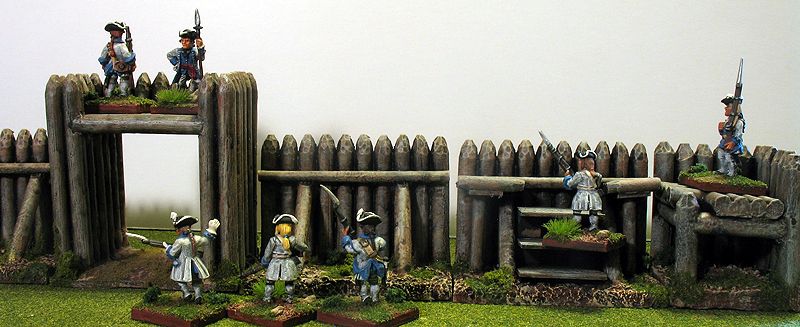 Close up of the "stairs up" conversions I made to the extra wall sections I ordered, along with a shot of the gate and corner sections