One of the small temples assembled
Everything was going together well on the temples, so far. The next stage could be tricky, though. I wanted to coat the surface to make it look more like stone than flat cardboard or wood. So, I decided that first I would spray paint it flat black. Then, after dry, I would paint the surface with white glue. While wet, I would pour sand over the surface to give it a rough, stone-like texture.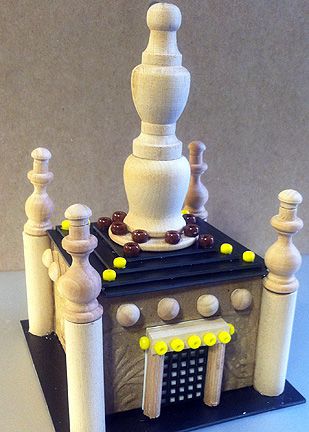 The other small temples assembled
I was worried that it might look globby (technical term), so I started out with the stupa first. I really like how the sand made the beads that I'd glued on as decorations look like actual stone carvings projecting out from the surface. The hollow oval beads were mostly filled in by the glue and sand and looked like they were carved. It did kind of dull the difference between the two different size and types of beads, though. They look more uniform, now. However, that's not necessarily a bad thing, I guess.
The Stupa and one of the temples coated with white glue and sand
I am afraid, though, that the sand has obscured the embossed detail on the cardboard box. You can still see a little of it, but I'm not sure if with another coat of black spray paint won't blot it out completely. That said, there is a chance that once I dry brush the stone surface, the raised detail will show up again. To be on the safe side, I did not coat the decorated wall surface of either of the small rectangular temples. I simply coated the roofs, doorways, and upper wall surface of one of the temples. Right now, they look nice, I think.
The other temple with the area around the doorway, the roof, and the upper portions of the columns coated in white glue and sand
The next stage will be to spray paint them again in flat black. One that is dry, I will go over the entire surface with watered down acrylic black paint. I'm sure the sandpaper surface will be rough on the brushes, but I need to have the black thoroughly coated before I dry brush it. I will dry brush the temples and stupa in two shades of gray.
I was happy with how they looked when they were all assembled, but I have a feeling they'll really pop out when they are painted.