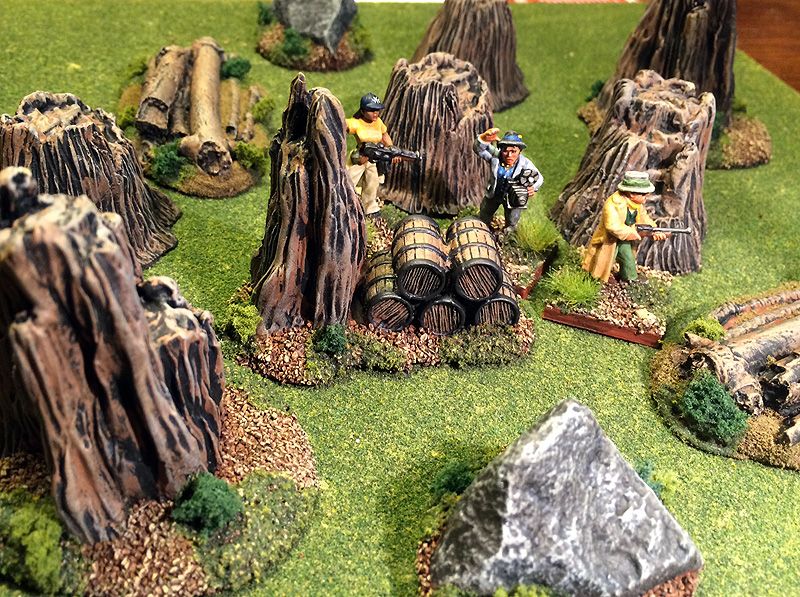 A few of my 28mm Pulp miniatures amidst the newly-painted Acheson Creations resin terrain pieces
I will be buying some more stuff from
Acheson Creations
in about a week and a half at
Advance the Colors
gaming convention in Springfield, OH. I love their various resin terrain pieces -- they are easy-to-paint, look great on the tabletop, and very affordable! So, since I will likely come home with a bag bulging with new terrain for the tabletop, I figured it made sense to paint up what I still had on hand from previous purchases.
Most of the unpainted pieces I had on hand were tree stumps and rocks. No problem -- I could doubtless use them to create a blasted forest, or to add color to an ordinary section of woods. When I say
Acheson Creations
pieces paint up easy, I mean
really
easy! Here is all I do to get great looking terrain for my games:
Run the pieces through a short cycle in the dishwasher on low (or no) heat
Spray paint the pieces black with acrylic
Go over the black with a 50/50 mix of black paint and water to ensure it seeps into all the ample crevices and folds of the piece
Dry brush a medium brown for the wood pieces (I use Howard Hues Camo Brown), or Dark Gray for rocks
Dry brush the pieces khaki for the wood (Howard Hues Colonial Khaki), or Light Gray for rocks (Howard Hues Rebel Gray)
Very lightly dry brush wood pieces a light gray -- don't cover up all of your brown, but enough to give it a weathered look
Wash with a black wash of your choice
Flock
The deep folds and crevices of Acheson products make them to dry brush
Bingo! You're done. Goes very quickly. I highly recommend Acheson Creations products. They are my single favorite wargaming terrain manufacturer.