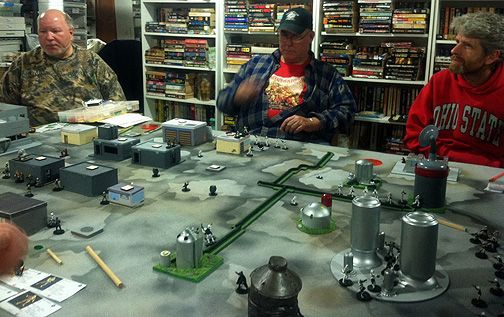 The Rebel Alliance enemy, Keith and Steve, and our Imperial co-commander, Joel
We use the Ganesha Games rules, "Song of Blades and Heroes," for a number of periods. Their modern one, Flying Lead, was adapted by Mike S to use in Star Wars skirmishes. We'd play-tested it once before, and Mike was itching to do another game of it. He cooked up a scenario that featured an imperial raid on a rebel base. Intelligence reported that the leadership of the Rebel Alliance was meeting on the planet, and we were sent in to capture them.
Mike set up a nice board with lots of scratch-built, futuristic terrain. Our favorite was the radar dish made from a plastic champagne glass. We also noticed immediately, as he passed out the command, that we would each have a freaking HUGE force. I think Mike looked at the recommended point level per side and interpreted it as per player. With six players total, that meant our battle was three times the recommended size - ha, ha!
This led some of us to attempt only one action per figure, so as not to "crap out" (two failures or more on an attempt). If a player rolls two or mroe failures on the same roll, their turn is over and the remaining figures in their command do not move. This would be my lot for much of the game. It seemed whenever I tried more than one activation, I crapped out. But rather than have you read about my typical, awful dice rolling, I thought I'd plug in a couple of After-Action Reports that others who were present emailed to each other.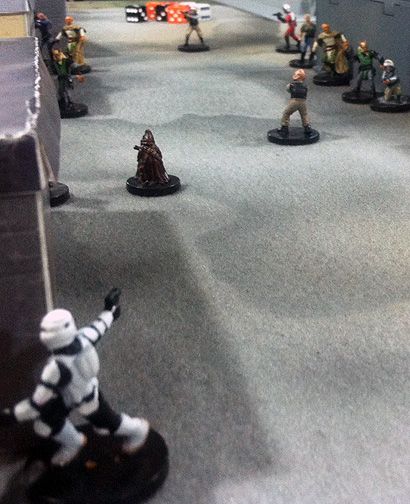 Imperial Scout trooper finds a nasty surprise around the corner -- a whole pack of rebels!
First up, is the report sent out by my fellow Imperial commander, Joel Sams:
Star Wars Skirmish - GM: Mike S
Team Rebel: Allen, Steve, Keith
Team S'Troopers: Mike D, Tom, Joel

"...Juliett Platoon, right flank! Storm Troopers assault!" Fanned out moving smoothly toward the village. We encounter worker droids amongst a tank farms.
Pvt. 'Joker': "Hey Sargent are these the droids we're looking for?" Then that ambush hits Papa Platoon hard. The rebels are all over them like ugly on a wampa. Our preplanned memory bank kicks in...
Sgt. HardKor: "AMBUSH! SPREAD OUT -- MOVE, NOW! Third squad take rear guard position by that radar dish. Pvt. Joker, take point! Get across that pipeline...move, NOW!"

Our squad moves as a unit across the pipeline and our body armor is pressed hard against an adobe shanty. We see Gunner Thompson of Papa Platoon is dropping grenades everywhere BUT on the rebels. The firefight is intense Papa Platoon holds up in storage tanks uses the cover and their body armour helps holds off the rebels.

Sgt. HardKor arrives at the adobe. "Is this structure secured?"

We repeat the question aloud to ourselves, Is this ..structure...secure??" Suddenly we are under small arms fire from INSIDE the building. Then the adobe from across the dusty street also erupt with small arms fire. Sgt. HardKor directs traffic. "Moon and Rok around back- look for a back door!"

Five minutes of firefight, then Pvt. Joker looks up and pauses, "I love it when they RUN!" Three streets away a herd of rebels (20 or more?) are running like gazelle, with move and shoot tactics. Their unit moves fluidly and quickly overwhelm Motel Platoon on the left flank. It is a sight to see and we are in awe of their ability. Papa Platoon falls back just before Motel Platoon bends, and it is Papa Platoon that stops those Runnin' Rebels.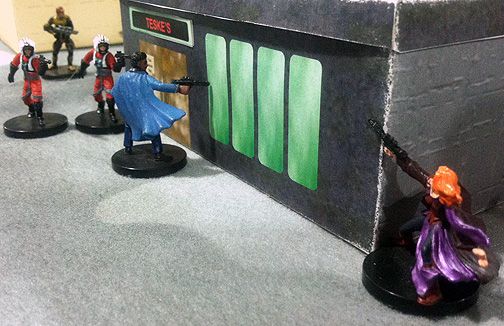 Things aren't much better on this end of the battlefield as my leader (in red hair) is about to be overwhelmed, but go down fighting...!
Next up, is a post from the other Rebel commander, Tom:
It was indeed a trap! The 4th Antares Legion had deployed a battalion of Storm Troops flawlessly from their transports at extremely close range to the rebel hive of scum and villainy, known as the Sar-Lor Industrial Complex (SLIC). We advanced on a search and destroy mission intended to decapitate the rebel leadership in this sector of empire.

It appears that the rebels were aware of our plans and had laid an ambush for us. As we approached SLIC a large number of rebels appeared immediately to our rear and opened fire on us. If we had been deployed on different sides of the village as had been the original plan proposed, any one of our Companies might easily have been annihilated, but as the operational commander I had 'altered' our line of embarkation to minimize friendly fire casualties and the rebels were facing three times the troops that they likely expected.

Police Commander Smythe was the first to go down as he was the furthest in the rear of our forces and many of us were caught in the open. However, the rebel scum, were as usual, unprepared for a firefight and when the initial surprise was over the massive firepower returned by our battle line proved devastating.

Our left and right flanks put forward advance guards toward SLIC to probe for further enemy forces and they very quickly found them lurking in many of the buildings of the town. In addition they reported additional rebel reinforcements were being brought up through the worker's slum.

The right flank held well, engaging rebel forces in the slum, but the left flank seemed to be unmotivated and once engaged with the rebel scum quickly decided withdraw was the better option. A huge rebel thrust on the left almost broke through our lines to the waiting evacuation ships, but the left flank managed at the critical moment to stiffen and hold off the rebels.

A number of experienced rebel pilots were killed or injured, but the high level commanders slipped the noose.

General Moose
Commander Antares Legion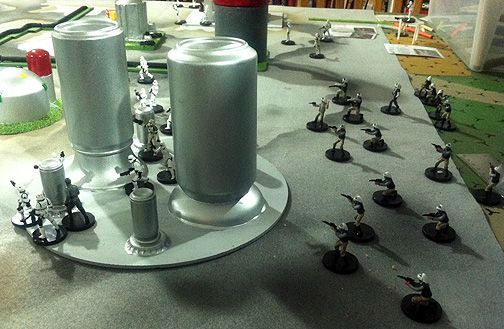 Look out behind you! One turn after we march onto the board, a massive force of rebels sprints on behind us and opens fire...thankfully, Allen wasn't hot with his dice or we'd had an even rougher time of it...!