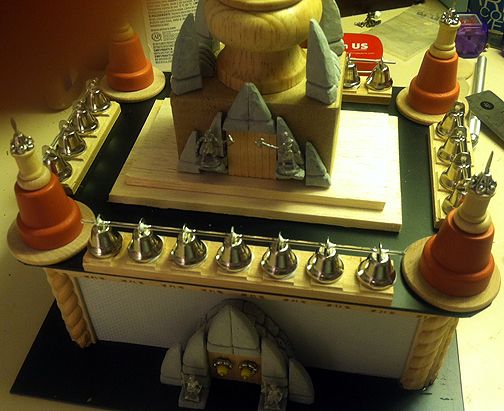 A row of tin bells glued along the roof trim made for a nice, final architectural flourish for the temple
Not a whole lot new to report on the build, so far. I finished the "construction" phase of the temple by deciding upon what decoration I wanted on the roof trim. I'd glued a piece of wood with raised rectangular sections that looked perfect to have some decorative bead or architectural flourish on them. So, I headed down to Michaels craft store and perused through the bead aisle. Nothing really jumped out at me, so I kept browsing through the store until I came upon a pack of 30 tiny, tin bells. I measured them and they would fit in the rectangular areas of the roof trim almost perfectly. The only thing I wasn't crazy about was the tab with hole at the top -- doubtless meant to tie or hang them with. Then I got the idea to thread a tiny dowel through the lined up holes. It would make a perfect decorative railing. I stopped by Hobbyland for a length of acrylic dowel small enough to fit through the holes.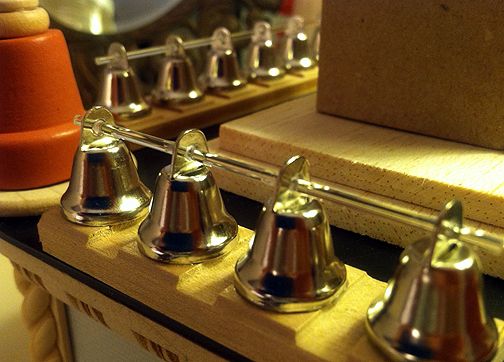 Close up shows the length of acrylic rod threaded through the lined up holes in the tab at the top of each bell
Once I got them home, I found out I needed to yank out the ringer to get them to sit flat. This didn't take long, and then I simply used Tacky glue to affix each bell in its row. First, though, I threaded them along their length of dowel and lifted them up as one to the trim piece. The long sides took 7 bells each, the short sides four. It worked like a dream, and I thought I was ready for the next step -- painting. However, I hit upon an unfortunate snag. I discovered, much to my frustration, that Tacky glue does NOT stick to styrene. At all. Whatever is affixed with Tacky glue pops back off at the first jostle. I had nearly every piece that had been glued to the roof pop back off. And the top molding on the lower level popped off on all four sides. Lesson learned. I scored up the styrene to try to give is some grip, and then re-affixed them with 5-Minute Epoxy. Hopefully, this will make them hold long enough that the layers of glue, paint, and texturing cement it into place!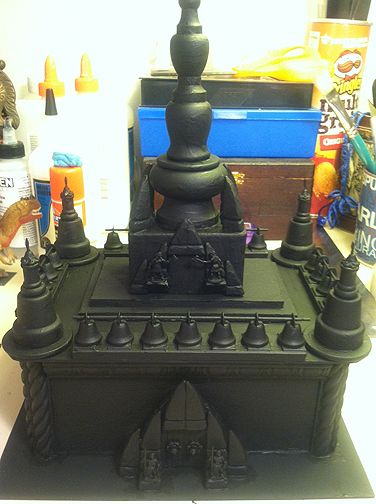 The temple after being spray primed black, and then gone over with an additional coat of brush-on acrylic black paint
Since it was still relatively cold here in Ohio, I set up a large cardboard box in the garage to spray prime the three temple pieces. The first day that it got warm enough to do so, I sprayed each piece down with flat, black acrylic paint. After it dried, I then brushed on Ceramcoat black acrylic craft paint over the entire surface. And that is where I am, now. The next step will be to add some texture to the non-brick surfaces of the temple.
Stay tuned for more!