28mm Chinese Civilians from Pulp Figures by Bob Murch
I am curious how long it has been since I've painted a batch of miniatures. I don't want to count terrain -- which I did a lot of this past summer and fall. However, I bet it has been at it is going on three months! Way too long, I say!
So, to remedy that situation, I finished off my batch of 10 28mm Chinese Civilians for my Pulp Skirmish games. Most of the minis are from Pulp Figures by Bob Murch, as mentioned in the previous post. I really like these figs, so will doubtless be buying more from this company. They are big, solid figures with interesting poses and equipment. Of course, I changed out a lot of that equipment to convert the pack of "Yangtze River Gangs" into more peaceful farmers, merchants, and laborers. These figures have a lot of character -- particularly the short guy selling the duck, the hobbled old man, and the porter with the two boxes suspended on a pole.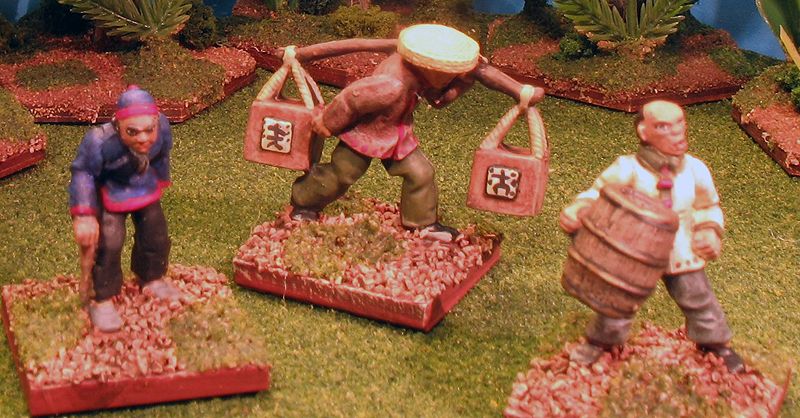 The Bob Murch line of Pulp Figures has lots of colorful characters, like these two on the left
I used the painting schemes on Pulp Figures' website as inspiration. Some color mixes I pretty much copied, while others I improvised upon. I'm happy with how they turned out. There is a nice mix of faded colors and brighter, more oriental silk palette. I think all of the conversion look natural. I was worried the barrel the one laborer was hefting would look out of scale, but I don't think it does. Same with the basket on the ground that the well-muscled porter has set down. They all look like they were off to the market rather than to war.

Farmers, Laborers, and other civilians will come in handy in my Pulp games
These figures will be pressed into action as soon as I run my final scenario in this storyline of Dakota Smith's Oriental Adventures. What's up next? I will likely paint some 28mm Native Americans. As I'm getting ready to playtest my Beaver Wars campaign rules, I need more figures I can use for youths or bow armed troops. Hopefully, these Chinese got the ball rolling and I'll get back into the swing of painting, again...