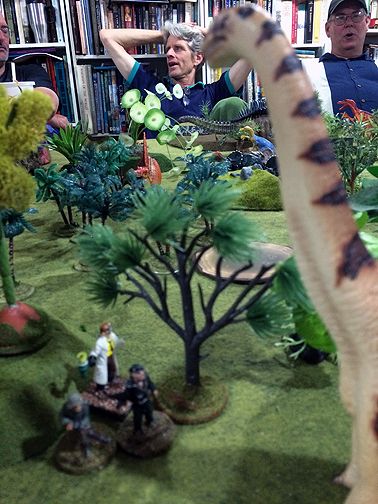 Although it was a laugh-a-minute for the players, it wasn't so much for the Nazis frantically trying to escape
We were heading to Keith's "man cave" for our usual Sunday evening of gaming. He was hosting his 11-year-old nephew, Michael, for the week, and wanted to put on a game that he might enjoy. With Keith being only mildly over-the-top about dinosaurs, it was only a natural he put a game on involving dinos. Rather than one of his usual Dino Hunts, Keith had a twist in store for us this evening. WE would be playing the dinos. And we would be hunting humans...specifically, Nazis!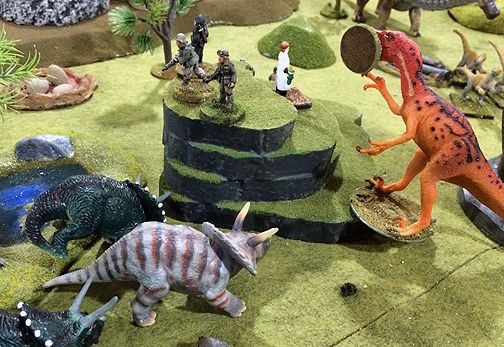 Nazis try to in vain to take refuge on a steep hill
Keith had seen a light-hearted set of rules called, "
Eat Hitler"
on
Wargame Vault
and downloaded them during their July sale. The scenario for the evening postulated that Hitler and his closest associates, with assorted guards, escape the fall of Berlin in a time machine. Russian artillery fire knocks the controls awry, though, and they ended up back in prehistory in a valley populated by hungry dinosaurs. Each of us would play a carnivorous dinosaur (or a number of smaller meat-eaters) with the herbivores and Nazis as non-players.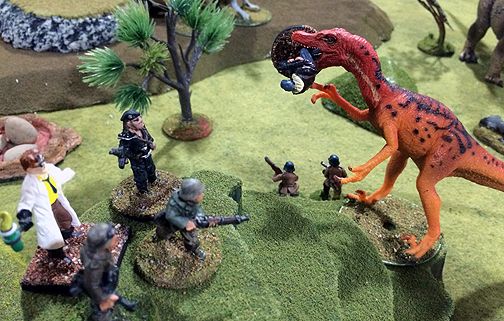 My dino snacked on two Nazis before they decided to flee the hill
I don't think the rules were designed for the 7 players we had participating, so we had to make some modifications early on. What's more, after playing it through, we had some more suggestions for changes if Keith were going to run this as a fun, convention game some day. We had a good time, of course. Just about everybody got to chomp some Nazis. My Allosaurus-sized dino (whose Japaneses name I forget) managed to eat one guard and Adolf Galland. No one ended up eating Adolf Hitler, who was saved from a pack of velociraptors by his loyal dog, Blondi. The seven players chased the Nazis around the board, generally ignoring each other and the herbivores. In the end, only Hitler, Blondi, and two others were left scrambling furiously to avoid the dinosaur rampage.
Steve's raptor pack used their cleverness to drive a pack of herbivores ahead of them to avoid Nazi firing
Keith's nephew Michael played the T-Rex, and seemed to have a good time. I took lots of pictures of the mayhem, and decided to go ahead and post some here. Enjoy!
Michael's T-Rex showed up and crashed the raptors' dinner party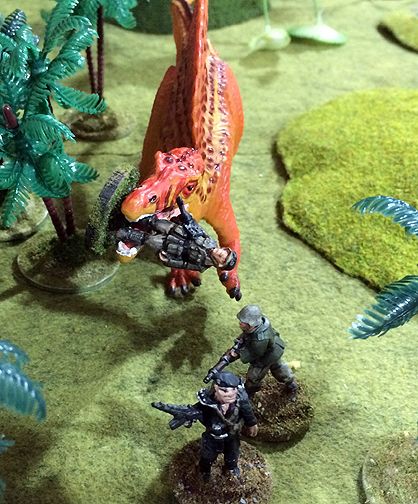 A spinosaurus got in on the feast and chased down the last remaining group of Nazis