"Dad-burn Injuns would come a'raidin' while the menfolk were away...!"
Although I don't approve of their attempts to impose their morality on their employees, I confess I love Hobby Lobby. My latest stop there is an excellent example of the serendipity that can be found wandering its aisles. I stopped by on the way home to pick up a can of Dullcoate -- my one and only sealant that I use on my miniatures. Lo and behold, I see this: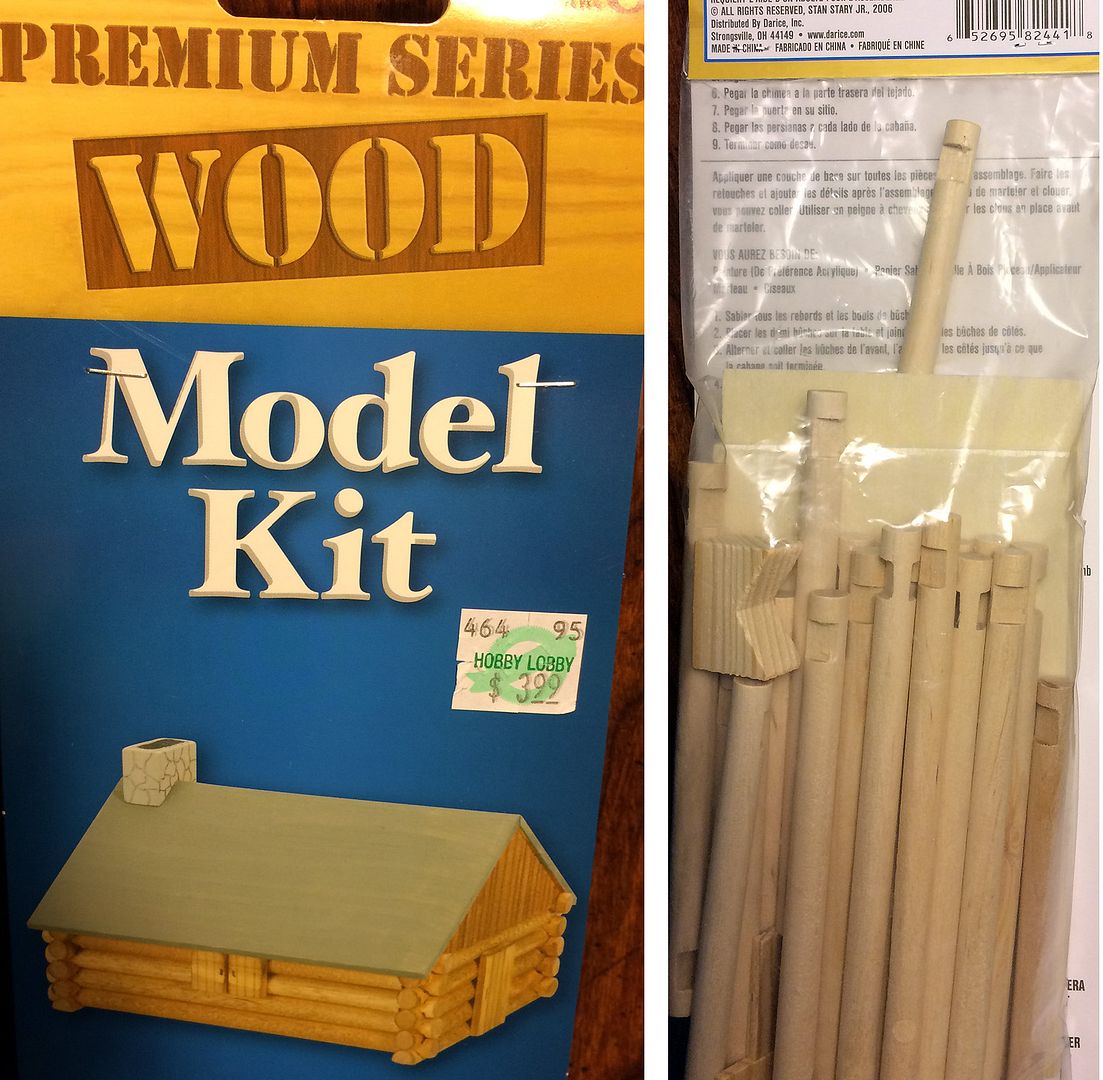 Yes, this is indeed a roughly 28mm scale wooden log cabin for $3.99!
I was incredulous when I saw the price: $3.99. My first thought was, "This CAN'T possibly be in a scale I can use for 28mm figures." I read the building dimensions on the package and turned it over and examined at the wood that came with it. It sure looked like it would work for my figures. I had just finished painting an Acheson Creations (my favorite terrain maker) log cabin, raising my total of dwellings to 2 cabins and 1 shed for the period. My upcoming game at Advance the Colors could actually use another cabin. "Hmmm...." I thought.
What the heck? It was only $3.99! I picked it up, and went home and did a dry run of assembling it. I shook my head...it really didn't look half bad. I decided to dress it up a bit, though. I dashed up to Hobbyland Graceland and bought a piece of basswood I call "scalloped" or "clinker-style," with what appears to be overlapping boards. I figured that would look much nicer than the flat wood included. That piece of bass wood actually cost almost as much as the building...Hobbyland has never been cheap. Their selection of bass wood in various shapes, patterns, and styles is unbeatable, though.
I began putting the building together using tacky glue. The notches cut in the wooden dowels make assembly easy. Once all pieces were together, I epoxied it down to a piece of black styrene I'd cut for the base. I cut a slice of the scalloped bass wood for the floor and slid it under the logs. I then began assembly of the roof. I used some bluetack to hold it together as I glued the two triangular pieces to one side of the roof. Once dry, I glued the other side of the roof on. I then cut a piece of cardboard, folded it into a "V"-shape, and glued it along the top to hide the seam between the two pieces of wood.
Next, I glued the door and windows to the outside of the building. I tricked out the door a bit by adding a frame made from wooden craft sticks. Note that there are no "cutouts" on the inside of the cabin for the windows or door. It looks like solid wall. Maybe I'll try adding those in if I do another one!
The inside of the cabin is bare, but it would be easy enough to saw the dowels to create cutouts for the windows and door
Finally, the wood chimney piece was dressed up, too. One side at a time was painted with white glue and pressed into a tub of coarse ballast. Once painted back and dry-brushed, this would give it a more stone-like appearance. Speaking of painting, it was time to paint the cabin. I spray painted it black first. Then I applied a 50/50 water and acrylic black paint to cover up all the areas the spray nozzle missed. Once dry, I added a wet brush layer of medium brown (Howard Hues Camo Brown) and then a Khaki. A black wash completed the painting of the wood insides, outsides, floor, and roof. The chimney received a black base coat, then medium gray and lighter gray dry brushes.
Flocking along the edges completes the cabin, and just that simply a new dwelling is added to my American frontier!