Scratch-built Saxon church, made using Hirst Arts bricks, cardboard and various other materials scrounged from the local craft store
I went looking for my post on this scratch-built, Medieval Saxon style church today and it took me forever to find it. I created this -- my all-time, favorite scratch-build piece of terrain way back in March of 2013. That means it just missed being on this blog, and instead resides on
my old Lead Legionaries site
. The way I organized the site back then makes it harder to find individual entries. It was more of a running log of projects I was working on. So, I thought I'd repost it over here so it is easier to find.
Without further ado, my words from 2013 on this build!
First off, I've decided that I'm going to pick up my 28mm Dark Age skirmish gaming again. I finally came up with a cool idea for a campaign I want to run for my Sunday night gaming group. So, to do that, I need to fill out my collection. I have plenty of Vikings and Picts, but could beef up my number of Britons and Dal Riatan Irish. And I owned zero Anglo-Saxons when I made that decision. I took care of that glaring need first, purchasing 25 Anglo-Saxon foot from Steve -- a guy who regularly sells Foundry 28mm figures at flea markets for just $1 a piece! My friends Steve V and Keith were planning a major purchase, so Steve actually drove down to Columbus on a Sunday night and brought his figures. I bought about $40 worth. In addition to the Saxons, I picked up some Irish, peasants and even some French & Indian War troops.

I immediately started on the Saxons, and they went very quickly. Within a month or so, I had all 25 completed. No pictures of them in this post, even though I have some because...well, I'll get to that later! Anyway, my campaign I am going to run for the group requires me to have a variety of Dark Age buildings. The focus of the campaign is raids by various players on each other's territory. And a main target of raids in the Dark Ages were those banks of the time, churches! So, I decided to scratch-build an Anglo-Saxon church. I did some research online and found a relatively simple design that I thought I could reproduce using leftover Hirst Arts bricks. A long time ago, my friend Zeke cast me up a bunch for a Pictish broch. He said to hang onto the bricks I didn't use, though. After deciding on a design and size, I sat down one night and began to stack the bricks up on my desk to see if I had enough for the church as I envisioned it. I did...barely. It was so close that I had to switch from a rectangular chancel to a rounded one to have enough!
The Hirst Arts bricks all laid out on the wooden plaque base
I based the whole thing on a cheap wooden plaque from Michaels craft store. Those Hirst Arts bricks are heavy, and need something thick and stable. There are 3 joined together sections to this building -- the long rectangular nave, a rounded chancery, and the small squarish portico entrance.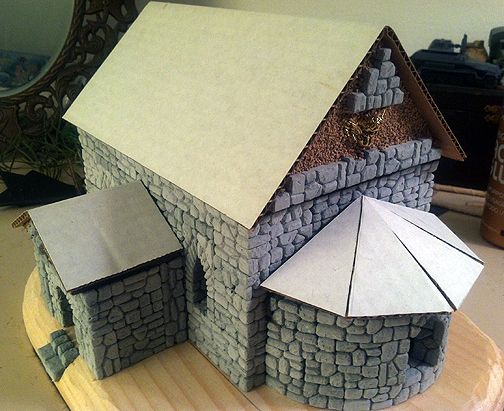 The cardboard roofs are fitted, but the tiles aren't glued on yet
The next photo shows the model with the three roofs in place. They are made to lift off for gaming, of course. These were completely scratch-built, using a styrene base, foam core eaves, and cardboard roof. Next up will be to put cardboard shingles on the roof. You can see the decoration I've added for the eaves. The coarse gravel and Hirst Arts bricks combine to give a mixed building material look. The angel will be painted stone, of course, and comes from the local craft store. I picked a bag of them up about a decade ago and am finally using a couple of them! And another view showing the portico entrance, with more simple decoration over the door.
The roof tiles were cut out in strips of cardboard and then glued on. VERY tedious, but looks nice!
It had been awhile since I used the Hirst Arts blocks. I found I needed to put 2 coats of primer and two of watered down black paint to completely black coat it. There were still some plaster gray spots peeking through. I was never one to use the min wax "dip" method, but now I'm wondering if it'd be quicker and do a more thorough job. Next, I constructed the roofs. I used the method suggested by my friend, Joe (from "An Hour of Wolves and Shattered Shields" website). However, I stupidly used very thick cardboard for the first roof I tried -- the small portico entrance. You can see the difference in the photos. After that, I went out and got some ordinary black cardstock and it worked much better. Joe was right, cutting and gluing the strips of tiles into place was tedious. It took me two hours to do the large roof alone. As a facing, I glued on a piece of textured bass wood to hide the edge of the corrugated cardboard roof. I could have done a better job measuring and trimming the pieces up so they match. Live and learn!

I've also added in a few detail elements, as you can see. First, I took some craft store crosses and glued them to the peak of the eaves of the large roof. They were dry-brushed to resemble stone. I also put a washer over the door of the portico, and then cut off the head and shoulders of a 1/72 scale plastic figure as relief carving of a saint or Mary.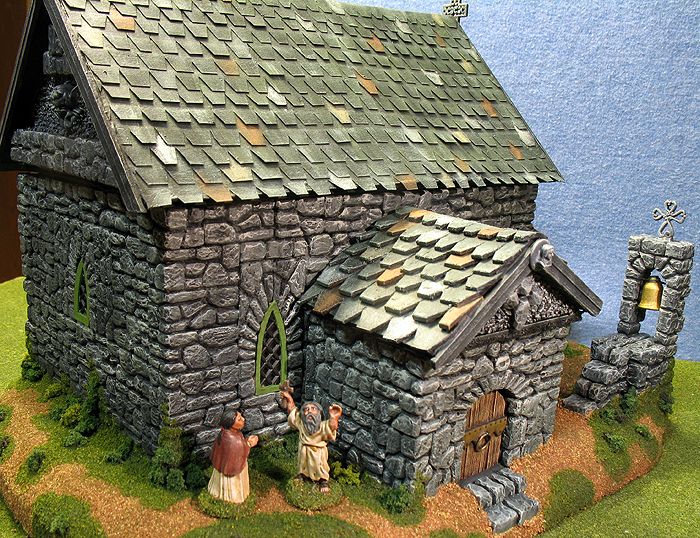 I took some advice of other modelers and picked out individual tiles in contrasting colors...really made the roof "pop"
You can also see the windows I made, which were quite the pain, really! They are a sandwich of 4 layers. The outer layers are simply cardboard trimmed to fit the opening. The inner layers are clear plastic and a black mesh material I picked up at the craft store. It was difficult to fit them exactly to the opening in the Hirst Arts molds. I think they turned out okay, though. I also used some leftover bricks and made a small bell tower. The bell itself is a wooden tea bell from the craft store with the handle snipped off. Another charm cross sits atop the bricks.
Top-down view of the interior of the church
I decided I wanted to jazz up the interior of the church, too. You can see the tombstones I laid in the floor, which are simply painted rectangles of styrene glued atop a styrene sheet brick pattern painted to look like stone. The tapestries are images I downloaded from the internet, photoshopped to the right size, and had printed out on linen type resume paper. The sconces and candles were scratch-built using beads, hook and eye clasps, and wicks for candles as the actual candles themselves.
The scratch-built altar of my church
The curtain separating the nave from the chancel is made from ribbon material I picked out at the fabric store. The statues are 1/72 scale plastic figures, while the altar table is balsa wood and hook and eye legs. The candle sticks are fancy beads. As you can imagine, this was a very time-consuming model to create. I love how it turned out, though, and it will be the centerpiece of the games I run at conventions this spring and summer.

Now...why no pictures of my Saxons? And why am I GLAD I didn't update Lead Legionaries for 2 months? Well, the Lead Painter League has rolled around again. One of the caveats of your first three entries is they are not allowed to have been published online before. So, the fact that I never put up pictures of 2/3's of the Raccoon army and none of the Saxons helped me out! With just what I had finished, I could make up entries for 7 of the 10 rounds. I loved competing in the leauge, but the deadline pressure was very stressful last year. Now, I get to compete pretty much without the deadline pressue since more than half my entries are done, they just need photographed.

As I am writing this, the first round will be ending soon. My Anglo-Saxon command group won its round. So, for the first time ever in the leauge, I have a winning record. I will post the image from each round on here as soon as the round ends. So, stay tuned for at least weekly updates...!