A few of my purchases at Historicon 2013 this year were farm or village animals in 28mm. I figured they'd be useful for skirmishes for everything from the Dark Ages to the French & Indian War to Pulp or modern games. I already had painted up cows, horses, and pigs. I jumped when I saw a dealer selling 28mm chickens and goats, and snagged a pack of each. Sorry, I can't remember which dealer it was (but I do remember they were very reasonably priced). If anyone recognizes these figs and knows the manufacturer, feel free to comment.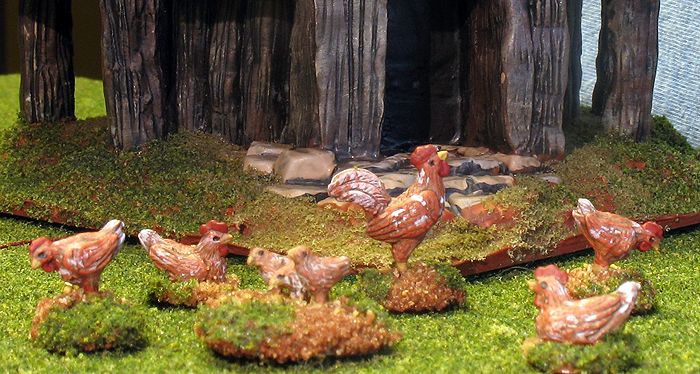 28mm chickens doing what chickens do...
Anyway, here are the chickens first. I was happy with the color patterns and think they turned out well. They will probably appear in a number of games from this point on. I mean, everybody likes chicken, right? It tastes just like....well, chicken! I based them up first on tiny washers, then used white glue to attach them to cardboard to hold onto while painting. I used a base coat of "Autumn brown," then dry brushed them Khaki very lightly. I added splotches of white after pulling up some images of chickens on Google. I think it is very important to look at photos of the animal you're trying to paint and not just do it form memory. There are often subtle colorings that you may have forgotten about that make them look realistic when complete. I added a red-brown "combs," dun-colored beaks, and black dots for eyes and they were done.
28mm goats near a Celtic hut from Acheson Creations...Jenny insisted the white one be called "Cuddles" after a goat her aunt owned...!
The goats to a little more time -- mainly because I decided to paint them in a variety of colors. I used a Google image search to select 6 colorings and saved the photos onto my desktop. I then painted them either white, "Bambi Brown," or dark brown for a base coat. A lighter dry brush was followed by splotches of white or darker coloring to reproduce the photos. These painted up quickly as well, and will also likely see use in a variety of games. Sometimes, it is the little touches like barn yard animals that can make a game table look realistic and complete.
Next up are some Pygmy Cannibals of the South Pacific...seriously! Or was that Pygmy Headhunters? I painted a batch of 10 a little more than a year ago, and now I've got the rest of the pack to finish up. And yes...expect them to pop up in my Pulp skirmish games...!