25mm Old Glory Indian villagers - the one on the left is probably my favorite of the batch
I think this batch of seven 25mm miniatures broke the record for sitting on my desk, half-painted. A complete lack of motivation kept them there, as weeks rolled by into months. It is not that the figures themselves were unattractive, uninspiring, or difficult to paint. The six Indian women and one child wore deerskin dresses or the occasional cloth blanket. They had not equipment to speak of and were relatively cleanly cast miniatures -- especially for Old Glory. It is just that the "painting bug" -- as I used to call it -- had fled into some hidden spot.
I rallied a week ago, though, and was able to polish them off this week. With the restart of the Beaver Wars campaign playtest looming, I would possibly need Indian civilians soon. So, it was good old deadline pressure that drove me, doubtless. Far more reliable than the bite of any shy painting bug, it seems needing to get something done for a project is what motivates me most consistently. I know that I used to treasure my hours of painting miniatures because of the therapeutic relaxation that it provided. Am I losing this? I hope not.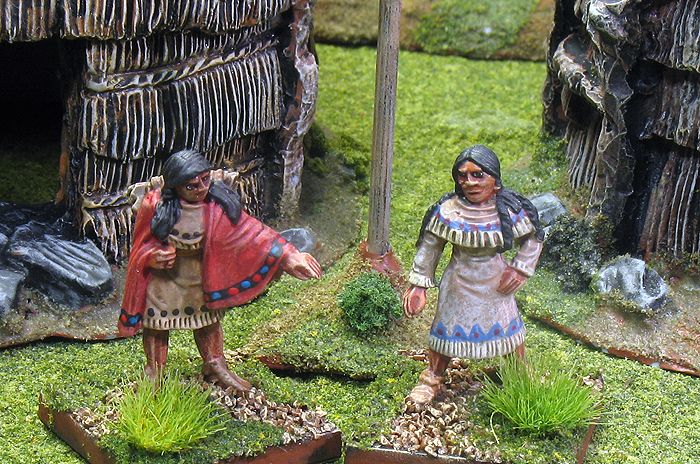 I used brighter colors on the cloth blankets and more faded, dull ones on the fringed, deerskin dresses
Anyway, I had been on the lookout for suitable Native American civilians for a couple years before my friend Mike happened across these. He was looking at Old Glory's 25mm catalog online when he noticed they made a package of
Plains Indians villagers
. Mike had noticed they looked very similar to depictions of villagers of Eastern Woodland Indians we'd seen. Now, if you're familiar with Old Glory, you know their figures come in large packages -- 30 figures, in this case. Mike decided he didn't need 30 and offered to split the bag with me. We'd divvied them up at Cincycon earlier this Spring. These seven were the first I had prepped and begun painting for the tabletop. My motivation had stalled when their skin and the basecoat on their deerskin dresses had been applied.
I'm not the biggest fan of Old Glory. Their greatest selling point is their very reasonable pricing. However, these poses weren't bad, for the most part. Some were actually very nice. So, they were fun to paint up once I got my mojo back. For their deerskin outfits, I used a variety of medium brown to light tan shades. I applied a lighter tone to each as a dry brush, and then added accents and pattern decorations in dull reds and faded blues. The cloth blankets were done in much brighter colors -- all with a patterned border or series of stripes. Once again, I referred to my copy of
The Narrative Art of Robert Griffing: The Journey Continues
. It is my indispensable tome for what Eastern Woodland Indians looked like.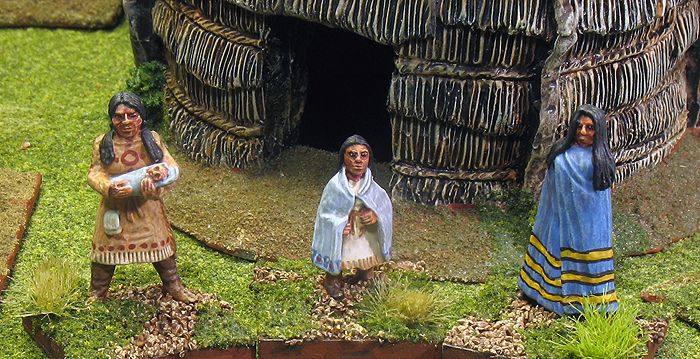 Several generations of Indian villagers depicted...the little girl looks remarkably self-possessed!
I really like how they turned out. I think the patterns and decorations on their dresses really make them pop and appear realistic. As strange as it may seem, I was actually inspired to paint up the rest of my allotment of the figures. When you think how long they sat unpainted on my desk, that's all the more remarkable. Need won out, though, and instead a batch of Footsore Miniatures Skraelings won out, and sit primed and next in line. My playtest group may be much larger for this second go-around of the Beaver Wars. So, I'm figuring I'll need more Indians who aren't armed with a musket, and instead hold bows or hand weapons, as theses do.
Still, the women and children may be next. A few of my scenarios for the campaign require civilians. So, I DO need them...right?