Corner of what I am calling my "Hasty Fort" -- a very affordable terrain pieces from Acheson Creations
One pleasant surprise from my purchases at Advance the Colors last year was the
Acheson Creations Log Stockade Fort
I bought. I got it home, opened it up, and discovered it was painted. Everything I had previously bought was unpainted. This fort, which includes a gate, 11 straight sections, and four corner sections, is for 28mm figures and represents a hasty fortification built by Colonial forces.
A photo of the Acheson Creations 28mm Log Stockade Fort unpainted from their website
The pieces were painted a deep brown with tan on the tips of the logs. There was a dark brown wash done over it all, both on the logs and the ground. Although it looked perfectly acceptable, I decided to touch it up a bit before I used it on the tabletop. I dry brushed the dark brown sections a medium brown, and then the tan sections a light khaki. This gives it more depth and a less flat look. Next, I painted the ground sections with white glue and dipped them in Woodland Scenics Turf Brown. Previously, the browns of the earth and the logs matched, but now they were obviously different. Since this is a hasty fortification, I decided not to add any grass or greenery to the turf.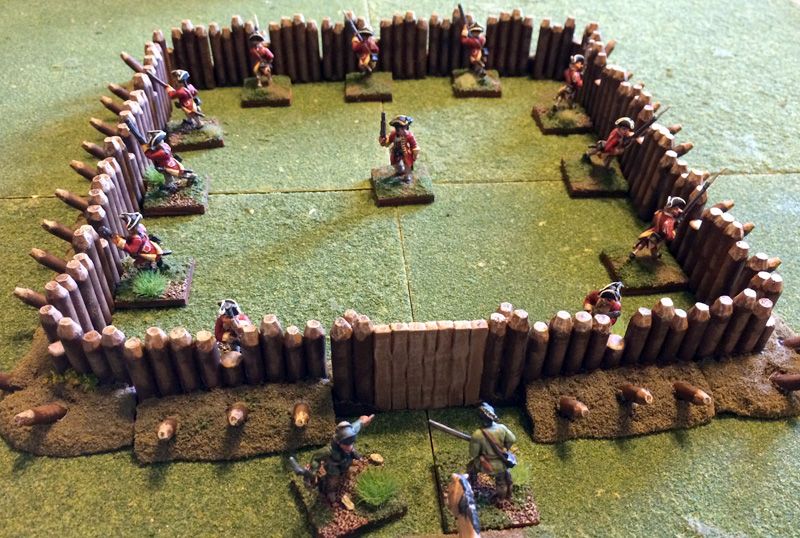 The perimeter of the fort -- all of the pieces (except the 28mm minis, of course) are included in the set
You can see pictures of the fort above. Not sure when I will use it, but I'm thinking I'll set up an ambush of a woodcutting party scenario. I can have stockade on one table edge, and make it the objective of the colonial forces to escape the Indians, who will be between them and the gates.
Close up of one section of the Hasty Fort -- you can see each includes a firing port sized for 28mm figures
Unfortunately, I don't remember how much Acheson sold the painted version for, but I know it retails on their site unpainted for $25. It must have been a good deal, as I had no idea it would come painted!