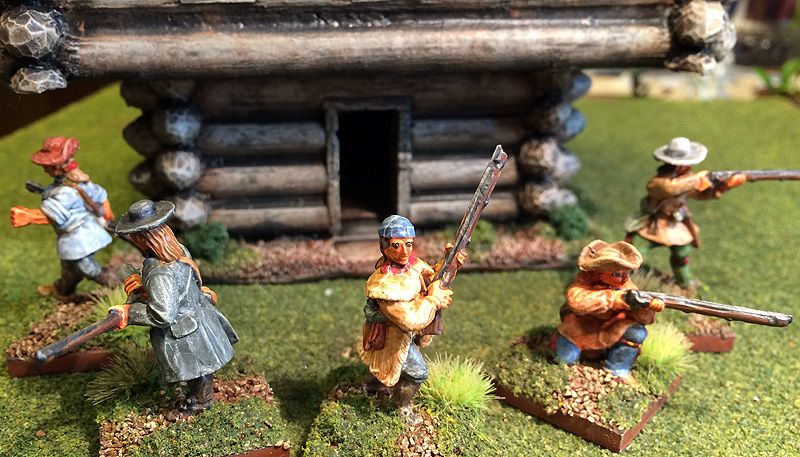 28mm Blue Moon frontiersmen from their Ohio Valley pack
I had hoped to get this last batch of Blue Moon frontiersmen completed before I left for Historicon, but it did not happen. I ended up not needing them for my game, but when I came back, they were first on my list to finish off. I enjoyed painting the Blue Moon boxed set. The figures were interesting, even if they were not sculpted to the standard of the Conquest Miniatures I normally paint. There were some mold lines that I could not cover up with a hobby knife, and a decent amount of flash to clean off. Still, once painted, they look nice on the tabletop.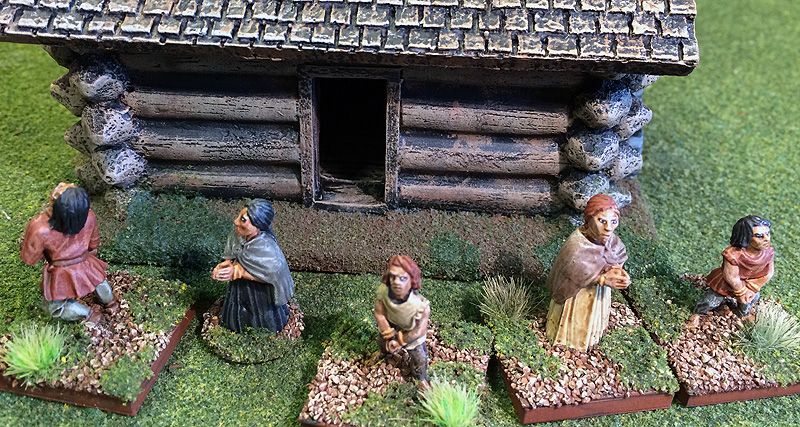 Five women and children settlers -- not sure of the manufacturer, as I bought them painted and touched them up
I also finally got around to touching up some settler women and children that I've had for years. I am not sure who makes the figures because I bought them painted off of a friend years ago. They were not badly painted, but I wanted to base them up to match the rest of my figures. As long as I was doing that, I figured that I may as well touch them up. All I really did was a bit of highlighting and drybrushing to give them more depth. That, and I added eyes. The figures were previous painted with just a black slash for eyes, so I gave them my usual 28mm treatment. The figures are actually meant to be captives -- you can see the leather wrapped around their wrists. I briefly toyed with the idea of looping several together on a multiple base. It would look nice with wire or something to show them roped together. I ended up decided not to do so because in my games, players can rescue individual captives. I let players cut one captive free, and a multiple base would complicate that (or force me to change my rules!).
I think that after painting these figures, I'm going to take a break from the French & Indian War. I will still work on terrain for it, but I think I have plenty of miniatures painted up at this point. What's next? Stay tuned, and you'll see...!