Two of my "too many" projects are complete...!
As mentioned in my "Too Many Projects" post, I have been juggling quite the handful of projects, lately. Well, here are two of them completed -- both items I intend to raffle off in the silent auction I will hold at
Advance the Colors 2014
next month in Springfield, Ohio. I am auctioning them off for charity, which will go to help pay for my students' expenses on the trip to Italy I will be leading at the end of the school year.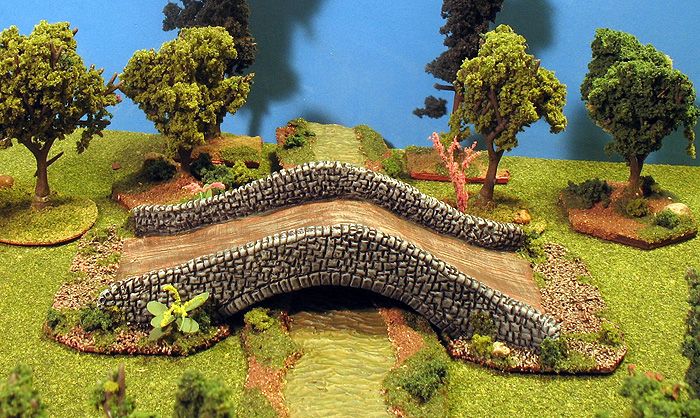 Small resin bridge I painted and based for a silent charity auction at Advance the Colors 2014
The bridge is a resin one that is just the right size to pass for either a medium-sized bridge in 15mm scale, or a small one in 25mm scale. I based it up on two separate pieces of black styrene. The arch of the bridge hangs over open space so it can be placed atop whatever type of river you use. In the picture, you see one of my latex rivers that I painted up last year. I spray painted it black, then brushed over that with a 50/50 coat of black acrylic paint on water to ensure thorough coverage. Next, I wetbrushed it a medium gray, followed by a light gray dry brush. The roadway part received a medium brown and then khaki dry brush. A final black ink wash brought out the highlights of the stone.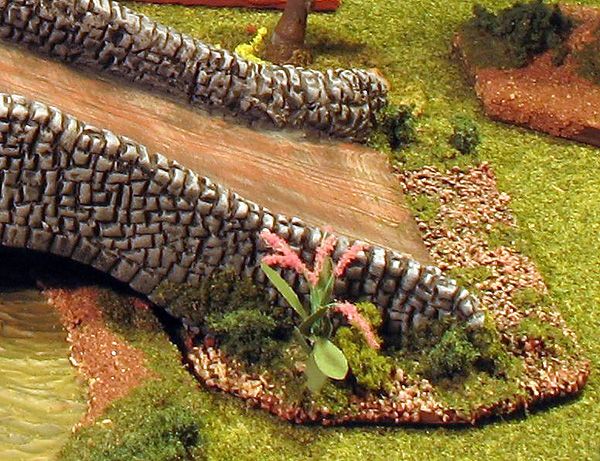 Close up of the flowers and flocking added to the base of the bridge
The flocking on the styrene was done by painting it with white glue and dipping it in Woodland Scenics medium ballast. This was actually done in the beginning before the black spray paint stage. The ballast was wet brushed with an earth red, and then dry brushed khaki. Next, I got out my hot glue gun and attached the three flowers or flowering bushes. I painted sections of the flocking -- and the bridge -- in white glue and sprinkled on Woodland Scenics blended green turf. I followed this up by gluing in light green and dark green pieces of clump foliage as bushes and weeds. The whole affair was sprayed with Testors Dullcoate. Afterwards, it was sealed with a 50/50 mix of white glue and water, and given a final spray of Dullcoate. I was very pleased with it, and hope that it goes for a good price!
The small 28mm scale graveyard, assembled from various bits and pieces
Much more elaborate (and going for a higher price, I hope) is this small graveyard. I assembled it from various bits and pieces that I have. The three tombs and the entrances are resin ones from my favorite, Acheson Creations. The walls are ones I picked up at a giveaway the widow of a gamer was holding awhile back. The tree is a Woodland Scenics plastic one. The decorative bits on top of the stone walls use pieces from craft stores and the points from some lead spears. Once it was all assembled, I painted everything but the walls and entrances with white glue and dipped it in Woodland Scenics medium ballast. The entire affair was spray painted black, which I went over with a 50/50 mixture of acrylic black paint and water.
A creepy, overgrown graveyard is perfect scenery for just about any period from the Middle Ages on up to the present! Put in your bid for this one at Advance the Colors in Springfield, Ohio, Sept. 19-21!
The walls and entrances were done exactly like the bridge, above. The tree was dry brushed medium brown, followed by khaki, and then light gray to give it that creepy dead look. The flocking was done exactly like the bridge, above, too. I put lots of Woodland Scenics clump foliage around it so it looked suitably overgrown and abandoned. I was really happy with how this one turned out. It is not as big as my own 28mm Graveyard I built last year, but I think it is the perfect piece of eye candy for just about any battlefield from the Middle Ages on up!